How to make a tasty vegetarian wing dip
---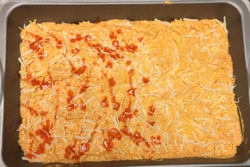 This is what the finished product looks like if you choose to make one side extra spicy.
This Recipe is Easy!
10 minutes to prepare
20-30 minutes to cook
Supplies
9X13 (or similar size) cake pan
Blender
Ingredients for 2-4 People
1 bag of low fat (2% milk) colby jack cheese
1 8oz package of fat free cream cheese
1 box of MorningStar Chick'n Buffalo Wings
Frank's RedHot Buffalo wing sauce
Frank's RedHot original hot sauce
Low-fat ranch dressing
Low-fat bleu cheese dressing (optional)
1 bag of Tostitos Scoops (or your preferred dipping chip)
Cooking Instructions
Preheat the oven to 375 degrees
Cook the entire package of MorningStar Buffalo wings in the microwave per the instructions on the box
Put 1/4 cup ranch, 1/2 cup blue cheese, 1 cup Frank's RedHot Buffalo wing sauce, 1 cup colby jack cheese, 8oz fat free cream cheese, and the entire package (cooked) MorningStar Buffalo wings into the blender
Blend to desired thickness (I like to keep it chunky for a more realistic "chicken" texture

Blend until your dip looks like this, still chunky but nothing too big to fit on a chip!

Optional: Add a couple drops of Frank's RedHot original hot sauce (depending on how spicy you like it)
Blend again for a few seconds to mix in the hot sauce, then pour your dip into the cake pan
Spread the dip out until it's about 1/2″ thick across the pan (covering the whole pan is recommended but not necessary)

Wing dip before it goes into the oven.

Sprinkle a handful of colby jack cheese across the top
If you like it spicy… add a few dots of Frank's RedHot original hot sauce. (Tip: Add hot sauce to half for the people who love things spicy and leave the other half for everyone else)
Cook for 20-25 minutes or until the cheese on top is fully melted (just like a frozen pizza)
---
This Vegetarian Chicken Wing Dip Recipe was Born in Buffalo NY!
A little history… I am a vegetarian living in Buffalo New York, the chicken wing capital of the world. Before I became a vegetarian, chicken wings were my favorite food. I only discovered chicken wing dip shortly before I chose to go meat-free. After some trial and error, I believe I have perfected the vegetarian's version of Buffalo chicken wing dip. Even my meat-eating friends and family members seem to love it!